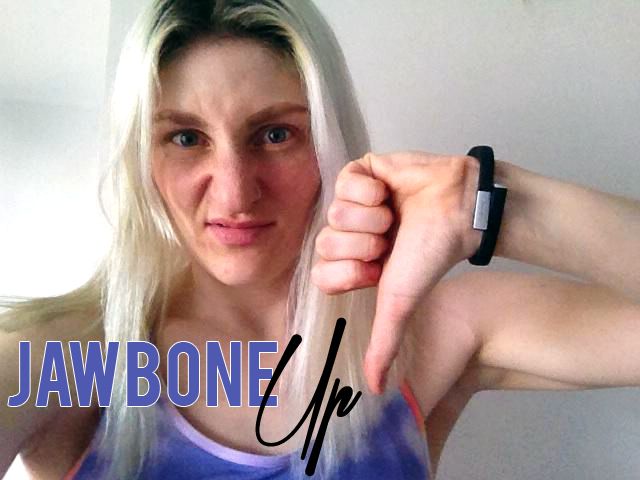 This was intended to be a thorough, detailed review of the Jawbone Up, as I feel these activity trackers cost a lot of money for something that is not essential for day-to-day life, so you need a lot of information before making your choice. As you might have guessed from the above image my experience with the Jawbone Up activity tracker was so bad that it didn't last past three days!
Unfortunately, mine just didn't work. At all. First up, although unrelated to the actual workings of the band, the sizing seems to be wrong. My wrist measurement should have fit comfortably into a size small, as it did into the perspex "try it on" hole, but when wearing the actual band the end bits stuck out uncomfortably and snagged on clothes and all manner of things, even pulling clean off at one point.
Anyway, it arrived, I charged it, I read the instructions: of which there were few, but it all seemed very straightforward. I wore it for half a day then excitedly plugged it into my iPhone. No stats. Hmm… Must have done something wrong. Re-charged, reset, reconfigured; wore for bed and all the next day to make sure there was enough data. Still nothing. I start searching on the internet for solutions, and I read that I am to try "soft-booting" and "hard-booting". Neither work – I figure out that the light isn't flashing the colours it should flash, anyway. I emailed Jawbone support, telling them the things I'd already done, and received a reply days later simply telling me to do the soft-boot and hard-boot. Great! Thanks for nothing.
The more I pry around the internet, the more I read terrible reviews about this activity band. That when it works, it works great, but users have to send their bands back every few months for a replacement. One review even says that after the warranty on the band was up (after several replacements) Jawbone refused to send any more out. Could I really deal with that amount of hassle.. just for an activity tracker?
Needless to say, the band went back. I bought it from Very who took it back no-hassle, despite claiming on the site it was excluded from their regular guarantee – clearly there had been a few issues previously. I am idly considering the vívofit from trusted brand Garmin although this experience has burned me somewhat. Who really needs one of these things, anyway?!